This post contains affiliate links and we will be earning a portions of the sale as a commission.
Now which boy does not like to be Spiderman this Halloween. Here is a great review for kids who would love to dress up as a cool superhero this year. Take a Boys Classic Spiderman Movie Muscle Costume from AnytimeCostumes.com.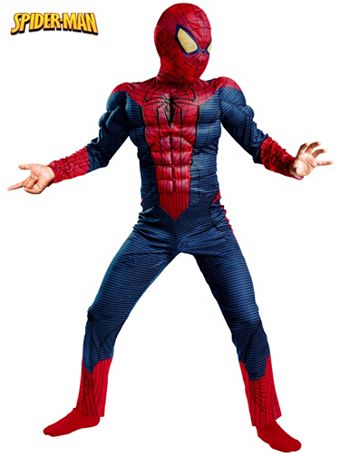 With strong muscles, this Spiderman outfit certainly looks as realistic as it can get. Every kid is probably picturing themselves as the Amazing Spiderman ever since the movie was out this summer. This wonderful 2012 costume is easy to put on and certainly gives them a good super hero feel.
This costume comes with a jumpsuit and head mask. The head mask fits snugly on the kid's head so their front and back of their head. The body suit comes with soft muscle bumps on their chest that the kids find soft and comfortable but they still look tough when they wear them.
The colors on this Spider man movie costume are bright and very realistic. The shiny blue and red certainly brings out the character as  kids wear this to enjoy some superhero fun time. This Halloween costume would be perfect this Halloween for boys. It comes in various sizes from toddlers to young kids. So everyone can enjoy being Spider man this year.
Be sure to also get the right set of accessories with your Spider man costume. It would be perfect if you got Spiderman gloves and maybe a pair of red socks that would let your Spiderman transform completely. There are so many different kinds of Spiderman costumes that kids can choose from this year.
What do you think of this latest Spiderman costume? Would your kid love to wear this for Halloween this year? What else would your kid do as he wears a superhero costume like this one?
I hope that you enjoyed this review and found the perfect Halloween costume this year.
Disclaimer: I was given a free Spiderman costume from Anytimecostume.com in order to help me make a objective and truthful review. All opinions here are solely mine. It was not expected of me to only write positive remarks. I thank Anytimecostumes.com for a wonderful review opportunity.
(Visited 172 times, 1 visits today)